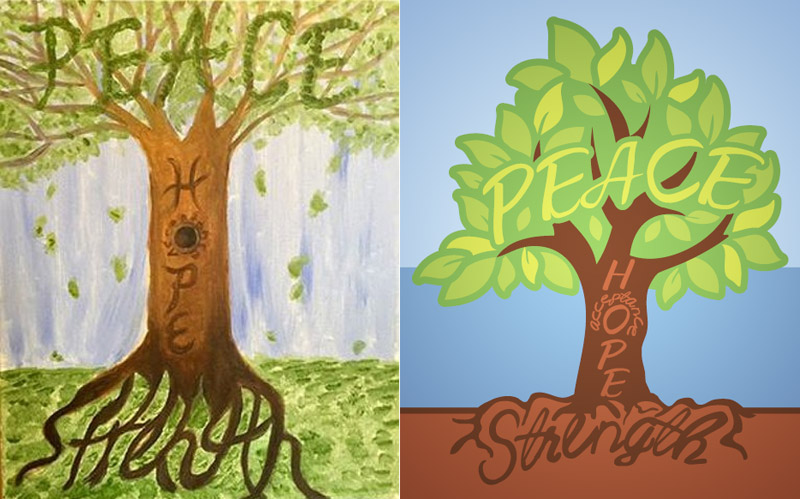 June 20, 2017
Strength. Hope. Acceptance. Finding Peace.
"The following content was written for the Yoga and Body Image Coalition and has been cross-posted with permission. For the original article, see here."
Anyone who has struggled with disordered eating and/or negative body image knows that it's all about the food and body and NOT about the food and body at the same time. The distorted image and hatred of the body along with the fear of the food are manifestations of a deeper struggle. They are manifestations of something unbalanced, damaged, painful, and deep within. From a body-centric perspective, struggling with an eating disorder is the body's way of communicating a message about the deeper struggle. When you begin to listen to the message, recovery can begin. Recovery can happen. And you are NOT alone.
Early on, I began disliking my body, wishing I could change parts of myself in drastic ways. I remember when I was ready to see beyond the surface into the root of the issue. When I was ready to move deep within and face the darkness with courage and hope. With support, I sought out help and am thankful for every lesson I learned about hope, healing and recovery.
My journey with yoga began long before I stepped onto a mat. For me, meditation came before asana. I would take long walks in the woods to find my tree, with its towering branches and hollow in the trunk. I would sit down at its trunk, placing my worry in the hollow. I'd wait for the answers to appear and guide me down the path of resolution and resolve.  I would go and "find myself" any time I felt lost.
Then came asana.  Assigned to research it, I had no idea what yoga was. Once I began to learn, I remember feeling like I had been understood for the first time. Truly understood. I felt I had "found myself."   The first yoga class I took was the beginning of a journey towards rediscovering, reconnecting and repairing my relationship with my body and myself.  For the first time, I felt a true sense of forgiveness and compassion toward my body. The asana portion of yoga became the tool I relied on to manage the underlying root struggles of anxiety, depression, self-doubt, anger, fear, hurt and violation. My physical yoga practice gives my body a voice that I can hear, honor and respect. It continues to help me to reconnect, heal and support the "roots" in order to find stability and strength.
One day while practicing tree pose, an image of my tree appeared.  I painted that image: Strength in the roots. Hope in the trunk. Acceptance of the challenges life has in store inside of the hollow.  Finally, finding peace.
If you are interested in trying a nyasa I developed based on this experience, check out this link: https://www.emilyprogram.com/blog/yoga-focus-tree-of-life
Please remember, your practice is unique to you. It's not about how the posture looks. It's about how it feels. It's about how it works for you. Designed for you by you. Invite the questions. Watch the answers unfold before you.  Know that recovery is possible.
In Gratitude,
Lisa Diers