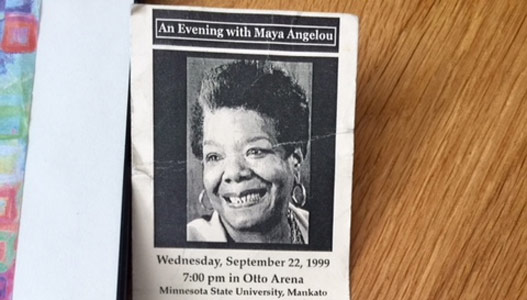 April 4, 2018
An Evening with Maya Angelou
An Evening with Maya Angelou
Nineteen years ago, I was a young college student on a self-proclaimed journey of body acceptance.
I had enough of all the negative body image and judgment out there (of self and others).  I was frustrated by the way so many women marginalized themselves by constantly pursuing the  "perfect" body. As a result, I  created  the "Goddess on a Pedestal" Club, to which I "made" all my friends  join.
The "mission" statement and initiation into the "Goddess on a Pedestal" Club included the memorization of (or listening to me recite)   Maya Angelou's "Phenomenal Woman" poem.
A poem that had found me in my youth and opened my eyes to a world  of acceptance, pride, self-love and owning my femininity.
Then the opportunity of a lifetime presented itself. Maya Angelou herself was coming to my college to speak! I went to the local Kinkos, spent what very little money I had and printed her poem on pretty paper with a colorful border.
On the evening of her lecture, I was joined  by one of my friends.  I held Maya's poem so tightly in my hands the creases and wrinkles are still visible today. I remember how mesmerized I was by her towering presence and booming voice. I could feel her energy penetrate my body and soul. When she recited "Phenomenal Woman" the tears rolled down my cheeks as I listened intently while watching her sway on the stage as she spoke- true poetry in motion. I couldn't believe I was in her presence and witnessing a woman in her fullest strength, captivating her audience with every move and sound she made. I have never been one who impresses easily. That night, I was moved and impressed beyond words.
As the evening came to a close, I wiped the tears from my face and noticed how many had fallen onto the poem. My Friend, who I think was moved to see this level of emotion from me, asked if I wanted to see if Dr. Angelou would autograph my paper. Having not yet reached my fullest capacity of self-confidence, I declined. I didn't want to bother Dr. Angelou. She seemed too great. This was my only regret of the night.
However, the tear-stained poem framed with my ticket from the evening  have remained with me 19 years later. Preserving her influence on me and marking the pivotal point in my life where I knew I was well on my way to fulfilling my life's purpose.
"Phenomenally. Phenomenal Woman. That's me."
That's each of us.
Thank you, Dr. Maya Angelou.
In Gratitude,
Lisa Diers